Fred McPherson: Watershed Whisperer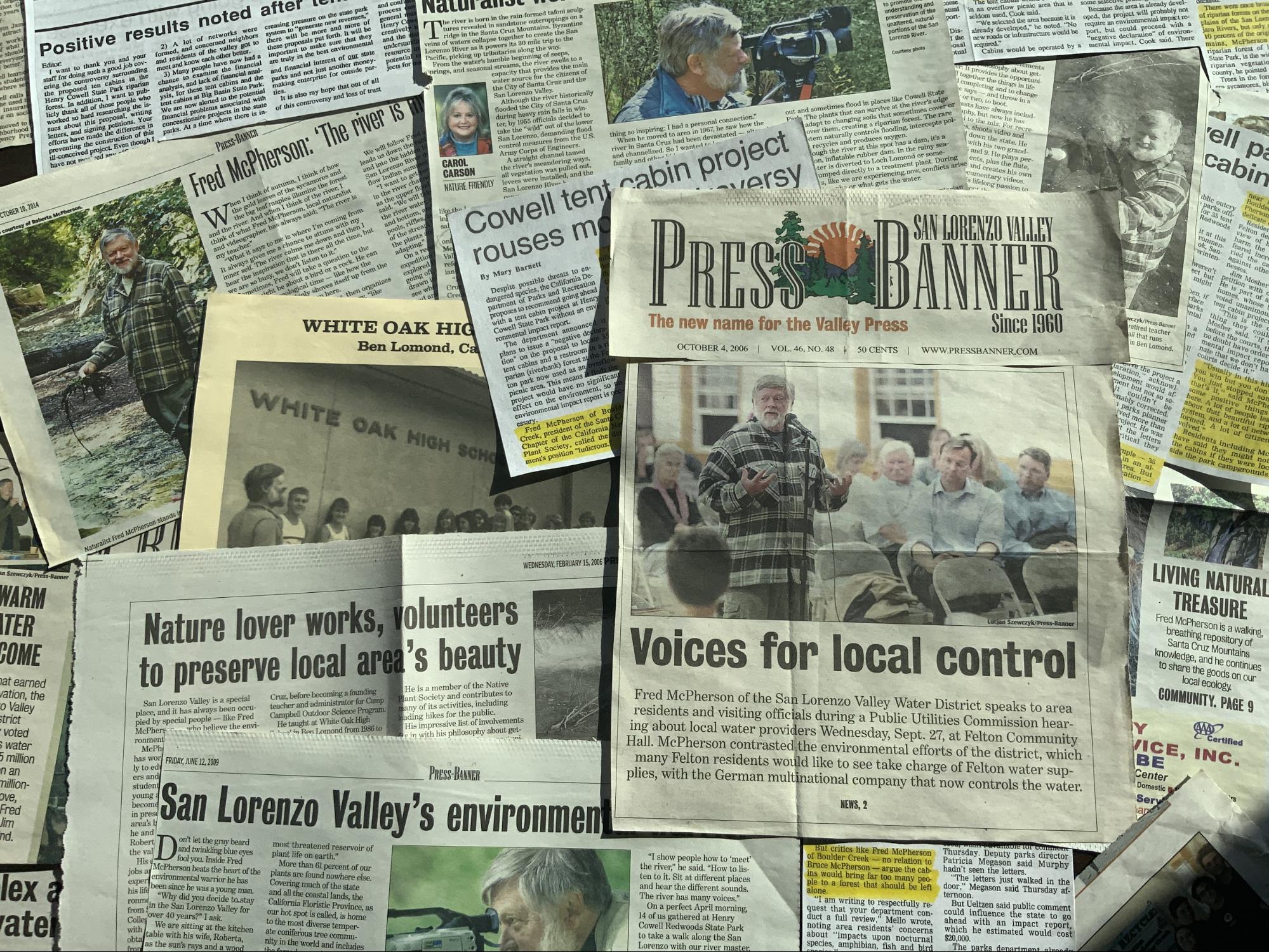 by Jessica Carver

Fred McPherson was a lifelong naturalist committed to providing equal opportunity and an abundance of knowledge to all. He is a key figure in the natural history of the Santa Cruz Mountain Bioregion. Like a watershed, Fred brought together various streams of knowledge to create a sense of interconnectedness within the Santa Cruz community. He represented multiple aspects of observation, activism, and teaching throughout his 50+ years of stewardship. 
Both Fred's early education and childhood memories played a role in shaping the kind of naturalist he would become. He was born in Van Nuys and spent time traveling throughout California with his family. When he wasn't roaming the fields of the San Fandago Valley, he was exploring the Kern Valley River. From a young age he was highly observant of the seasonal changes throughout various regions, species, and climate conditions of the state. He became an honored Eagle Scout while attending Reseda High School, at a time where the ecology field did not exist. 
After witnessing the commercial development of both the valleys he called home, Fred was drawn to the unique features of the Santa Cruz Mountains because it was still wild. He began closely studying the characteristics of the watershed and mountain ranges. His love for our local biodiversity hot-spot expanded so deeply that his life became dedicated to acknowledging and protecting it. This included various individual, yet overlapping, life journeys which make up the legacy he left behind. One journey being to provide an accurate, detailed series of nature observations in his lifelong collection of natural history field journals. Another evolving from translating this field research into various levels of curriculum; providing quality and innovative educational courses on a realm of subjects. All of these draw from his desire to motivate and enable the community to become involved with the natural world. He served as "a channel for [the] re-integration of humanity." He gravitated towards leadership roles and inspired others to do the same. 
His character was strong and adaptive; he was able to connect with people of all ages, in a way that was relevant and understandable to them. "I show people how to 'meet the river.' How to sit at different places and hear the different sounds. The river has many voices." "the river is my teacher, the trail is my classroom." Alongs the riverbanks, he engaged people in "the adventure of learning, and the adventure of learning to learn." He dedicated more than 50 years towards protecting and enhancing the Santa Cruz Mountains Bioregion through education, activism, community outreach and more. Notably, he has left behind an abundance of knowledge and wisdom through his lifelong nature journal series consisting of over 30 volumes. His dedication to documenting his observations, protecting our ecosystems and engaging our community is only part of the legacy Fred McPherson, the 'Watershed Whisperer' left behind.
See the links, at left, for more information about Fred's activism. See also information on Fred's extensive journaling in the Look section, and Fred's work in outdoor education in the Inspire section. You can also enjoy many of the videos that Fred made, with lots of help from his wife Roberta, on their YouTube Channel.