Ken Moore: Weed Warrior of Santa Cruz County
Ken Moore has been instrumental in protecting and restoring local natural history in Santa Cruz County and beyond, for over 40 years. He made extraordinary contributions to invasive species management in California and helped develop specialized techniques for especially noxious species. Ken Moore was the only participant from Santa Cruz County when CAL-IPC was formed and was the only "Weed Warrior" involved with CAL-IPC efforts for a period thereafter.
Originally from Wisconsin, Ken first started in landscape architecture back in 1962, but felt something was missing from his career. It is there, early on in his career, where he had made observations of ornamental plant species he was working with and concluded that they easily became invasive and displaced native plants. One day he saw an opportunity on a graduate board for his masters to study non-native trees in California and decided to head towards the opportunity to see what awaited in Los Angeles. There he quickly developed his passion for native plants and invasive species control, making astute observations about the natural history of various plants others had previously missed.
After he finished his masters he found an opportunity removing non-native trees near Santa Cruz. In Santa Cruz, Ken began to develop into the keen naturalist he is today. His passion motivated him to look for subtle clues to help determine why some invasive species were so prolific and how to best control them. A lot of his early interest and curiosity in invasive species was through hiking, especially at Rancho del Oso. His exploration led him to French Broom, which forever changed his life.
French Broom (Genista monspessulana) was the "gateway weed" that really influenced Ken. It was striking to Ken, because as he hiked around he noticed it was predominantely the only species along both sides of the road and it was so thick, you couldn't even see pass them or the view. Ken made it his mission to understand and remove French Broom, even before others noticed the impact and the urgency of non-native species invasion. Through careful observation he found that they were being dispersed throughout the State Park by getting picked up in the gaps in service vehicle wheels. Ken's passion led him to attempt to remove most of the French Broom in common areas of the Santa Cruz Mountains and earned him a career at States Park.
In 1990, Ken started the Wildlands Restoration Team. Although the group started small, it grew in volunteers and continued to grow until Ken retired in the 2010s. Although Ken and his team first focused on French Broom, they quickly found that as they removed some invasives, new ones would arrive. They then diversified their species control and expanded to all noxious weeds in the Santa Cruz Mountains. Some include, but are not limited to: English ivy, eucalyptus, acacia, periwinkle, Pampas grass and Himalayan blackberries.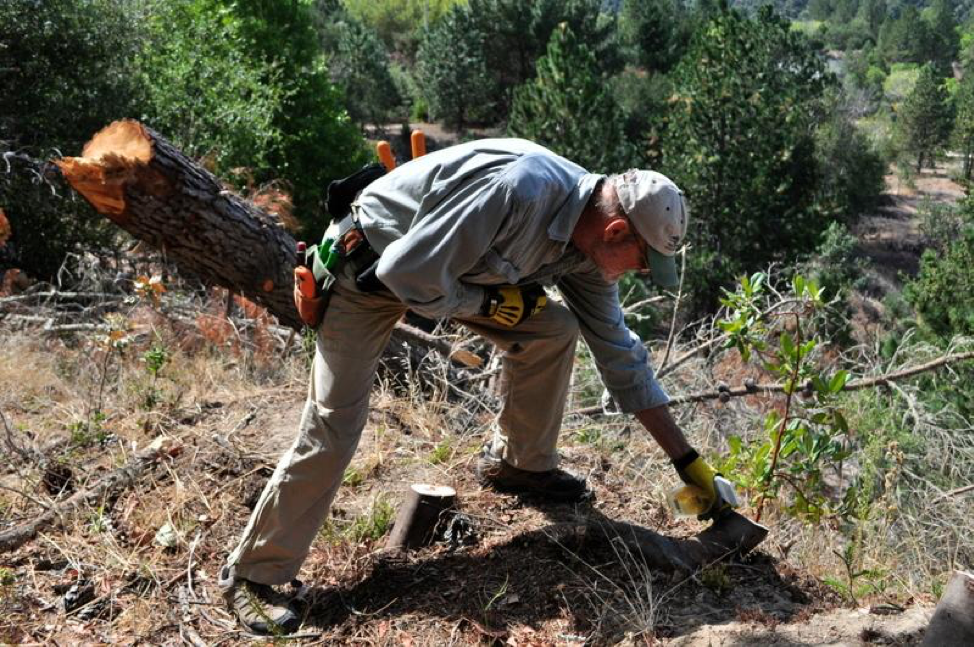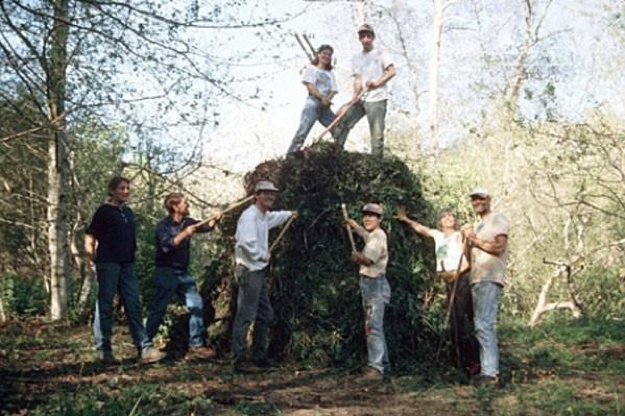 Ken has always loved nature, he discovered it when he was young. When he was in primary school he would walk to school about 1 mile every day. On these treks back and forth he found all kinds of roadkill, most of which he did not know. Some of it was in pretty good condition and had just barely been grazed. He recounts, "I saw some good ones, and I picked it up by hand, and it was life-changing, all the colors and you could really be in awe when it was up close. A few weeks later I picked up a Barn Owl for the first time, it was still warm. It was that moment I knew I wanted to continue working with nature in some way." 
Ken first approached State Parks about the French Broom problem in the late 80s. Although most were in disbelief about what Ken was doing because they could not see his rationale, one ranger did stop. He asked him, "You are here all the time, what are you up to?" And Ken responded he was trying to find and remove all the French Broom, and the ranger responded how many lifetimes do you think that will take? Ken said I don't know, but I have to give it a try. The ranger recommended Ken to the Sempervirens Fund.
Ken then explored the Sempervirens Fund because he wanted to gain a leg up to get into States Park. At Sempervirens Fund, he was hooked up with the only field worker they had, which at the time was working on trail building. Ken helped out and after two days, was acknowledged as an amazing source of knowledge and was asked, what do you want to do? Ken responded with invasive species removal, but also acknowledged that no one is currently doing it, but that is why it needs to be completed. Ken was so inspirational, that the trail builder he worked with at Sempervirens Fund secretly went to the director and let him know "we need this guy, and I will give up half of my salary if we can hire him part time," and ended up getting Ken the position.
After Ken had started his organization, Wildlands Restoration Team, he continued to inspire many of his peers as well as students in the next generation. Ken led workdays where community members could get involved and have his passion passed onto them. He designed studies for those interested to learn more about the natural history of non-native species to better learn how to control him.
To learn more about Ken listen to these interviews:
https://beprovidedconservationradio.libsyn.com/ken-moore-weed-warrior-or-more-like-invasive-plant-warrior-and-founder-of-the-wildlands-restoration-team
https://beprovidedconservationradio.libsyn.com/ken-moore-part-2-invasive-plant-species-removal